Most couples I photograph have never been married before and most don't have jobs as wedding planners. Most have busy lives, with careers, family and all the other pressures of life, so the pressure to organise one of the biggest days of their lives and make it a dream event exactly as they hoped is huge! Family, of course, (usually) help out where they can, but this occasionally has its own pitfalls!
Wedding suppliers are great for advice, particularly around their own areas of expertise. Wedding photographers however spend more time with you than anyone else on the day – I'm usually by your side from 2/3 hours before the ceremony to an hour or so after the first dance. Because of this, photographers see the whole flow of the day and have a wealth of experience to pass on to make your day as seamless as possible and often have a list of awesome suppliers who deliver perfect service wedding after wedding.
Every photographer is different, but here's my rundown of a "typical" wedding – yours will of course be different!
Bride/Groom Prep
This is one of my favourite parts of the day…the nerves, the excitement and the build-up to the main event. I like at least 2 hours, and preferably 3 to capture all of it, because there's a lot to do!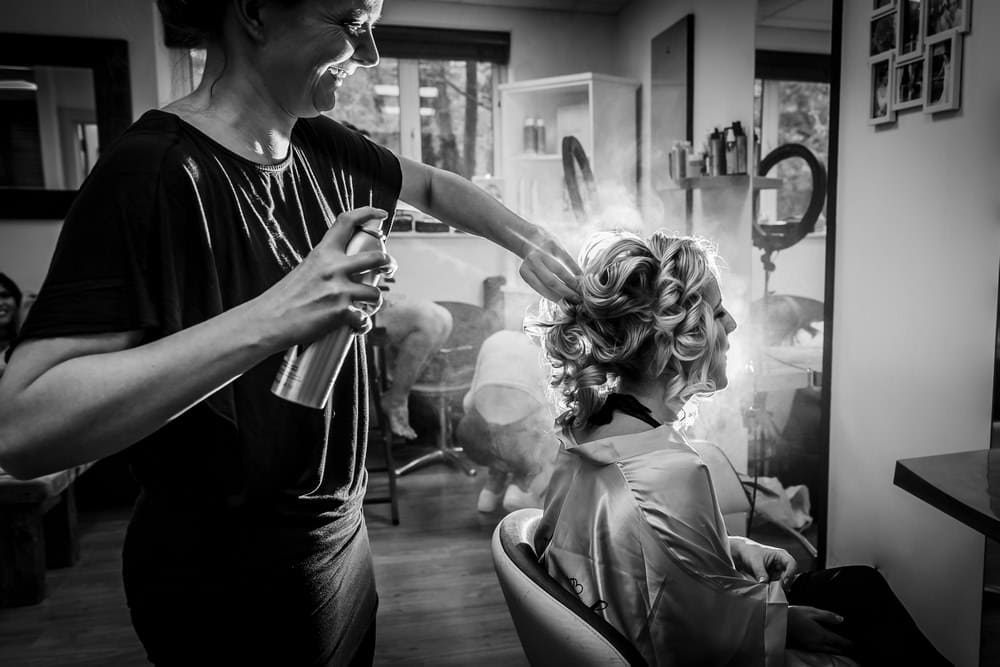 The expected makeup shots of course, but also detail shots of flowers, jewellery, and the dress, plus capturing all the fun, tears, laughs and drama of the run-up to the ceremony. There's also time to get creative with some flash and coloured gels if the room suits it. If prep is at the same location as the wedding, I will take some pics of the reception room, while no one is in there, including centrepieces, favours, cake etc.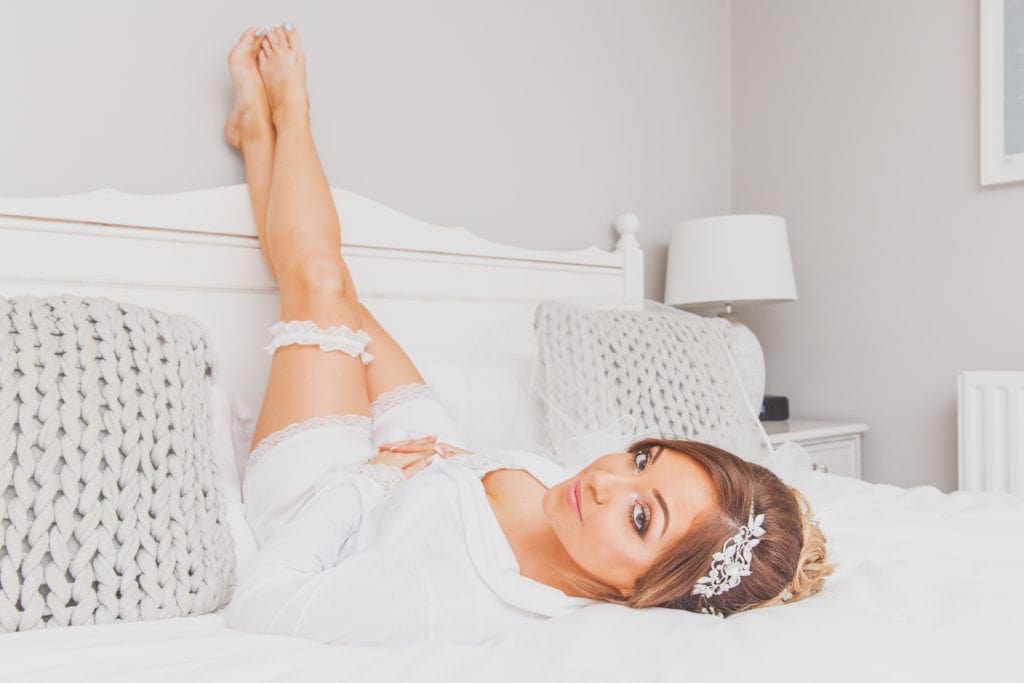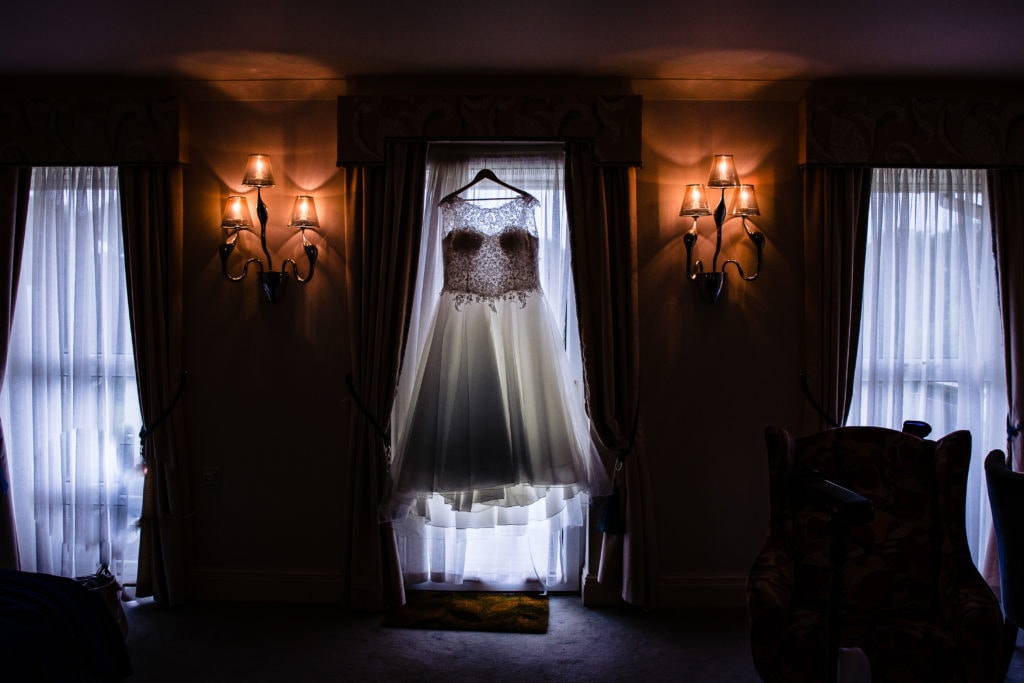 Mirrors are awesome, the bigger the better, and a top tip is to keep the room as tidy as possible, however this is almost impossible. One of my favourite venues, Rockbeare Manor has a separate room for brides to get dress in and its perfect for pre-ceremony photos.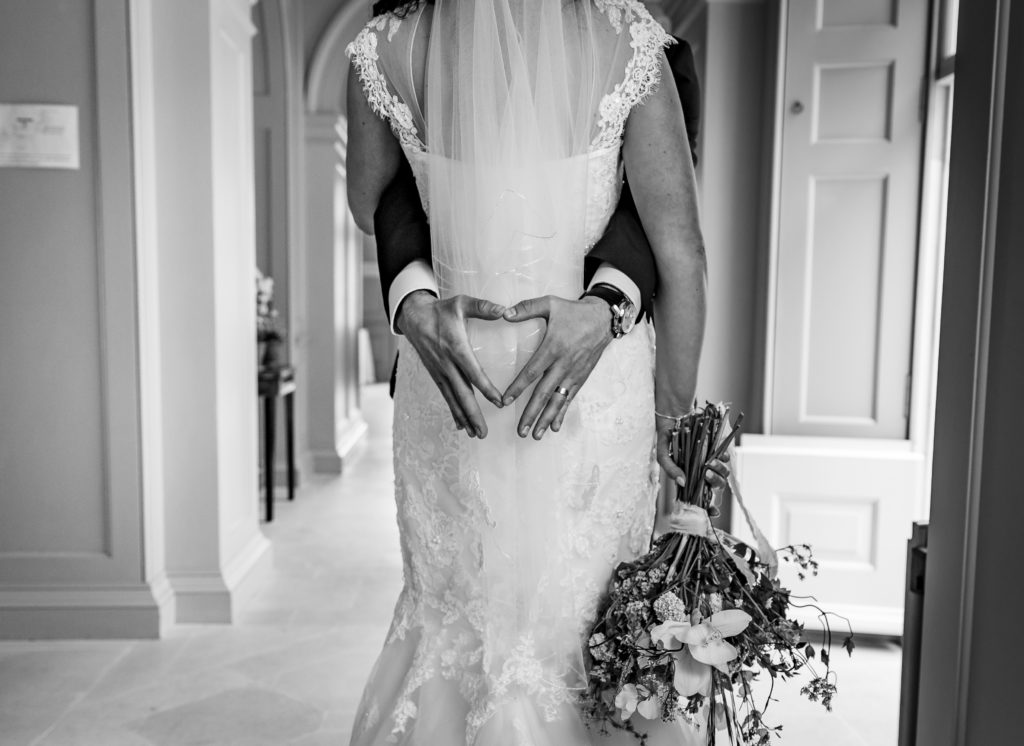 Grooms get some love too, especially if they are getting ready at the same venue, or at least arrive early enough for some shots with the boys. Buttonhole fitting is a particular favourite – there's nothing like watching guys trying to stick needles into each other first thing in the morning. Normally I end up taking shots of the attempts then fitting them properly myself.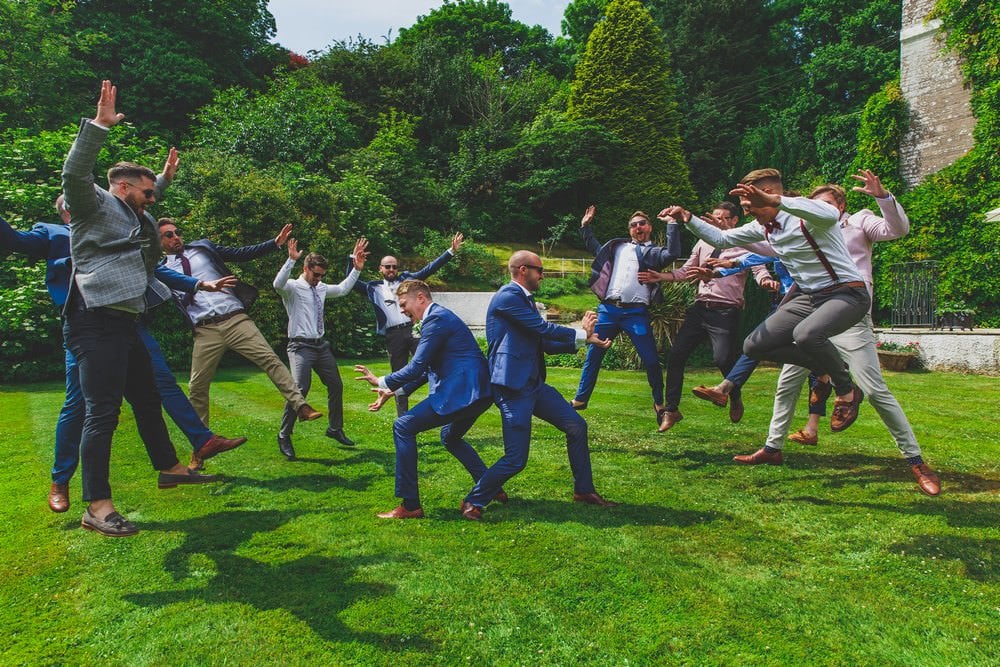 Some couples like a "first touch photo", where they get to touch fingertips without seeing or hearing each other. It can be a beautiful romantic moment, a moment of calm before the excitement of the ceremony.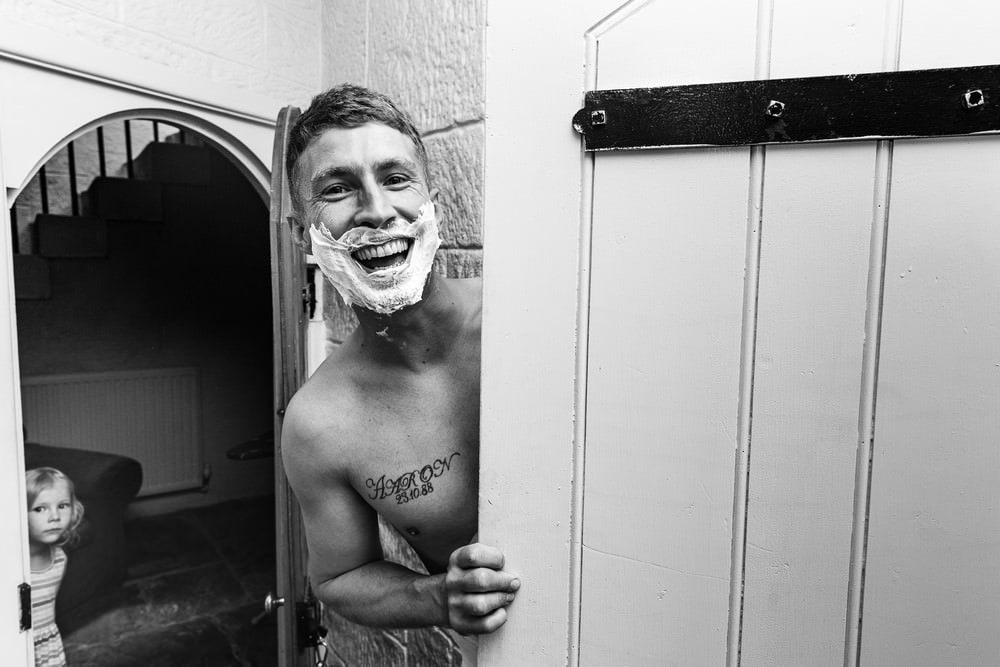 The last photos I take in this stage tend to be the bride getting buttoned into her dress, usually with her bride-tribe's assistance. If there is time, I try to do some pre-ceremony group photos, and maybe a big reveal to the brides father, or significant family member.
The Ceremony
Around now, the registrars turn up to chat to the bride. It's time for me to head to wherever the ceremony is being held and get some shots of the other half looking nervous at the head of the aisle. Brides generally demand that the groom is crying when he first sees her walking towards him, so I always carry pepper to sprinkle in his eyes just before she does. I had better say that was a joke, before I get arrested for assault…
I'll stand in the centre of the aisle just for when the bride walks up to get some classic shots of the bridal party, and the bride's grand entrance, then move to the side where I can be discrete. Nobody should be paying attention to the photographer at any point. If it is a Church wedding, I will move around during hymns to cover the service from different angles.
During the ceremony, I see a lot of couples looking at the registrar rather than their partner. It's hard not to as it's the "done" thing to look at whoever is talking to you, but it can look like you are marrying the registrar. Try and look at your husband/wife-to-be as much as possible –eye contact is so important and makes for romantic shots.
When exchanging rings, try and hold the rings lightly, between thumb and forefinger, when placing it on their finger. If you grab it in a death-grip I won't get to capture that classic moment.
At the end of the ceremony, the register gets signed. Photogs aren't allowed to photograph the book itself as there are other couple's personal details visible sometimes, but the registrars usually have a blank book for the photos. Normally, we can also take some shots with witnesses and close family, but not too many – we can take the rest later.
Confetti
Its then time for the happy couple to walk the aisle – together this time. Sometimes a venue will allow guests to throw confetti as the couple walk past, but sometimes there's not enough space. My advice is to walk the aisle then disappear for a private couple of minutes while I set up guests in an appropriate confetti-chucking spot. This gives you a peaceful moment after the ceremony to catch your breaths and enjoy some time together. You don't get many moments like that during the day!
After confetti (if you have it), drinks and (sometimes) nibbles are often distributed and I set up for a group shot from an elevated spot, normally hanging out of a second storey window. Then its time for some family and group shots. The key here is not too many, but not to miss a key shot – close family, people who have travelled, etc. I won't know who everyone is, so make a list and delegate the rounding up of guests to a groomsman/bridesmaid who you trust to do the job.
Couples Shots
Depending on the weather/daylight/time of year I will take the couple off for a little walk, or possibly a drive, to some nice spots for photos. To prep for this, I usually do a pre-wedding photoshoot in the months before the wedding, with a 5-minute posing lesson. You get to experience what it's like on the day and get some awesome pics too.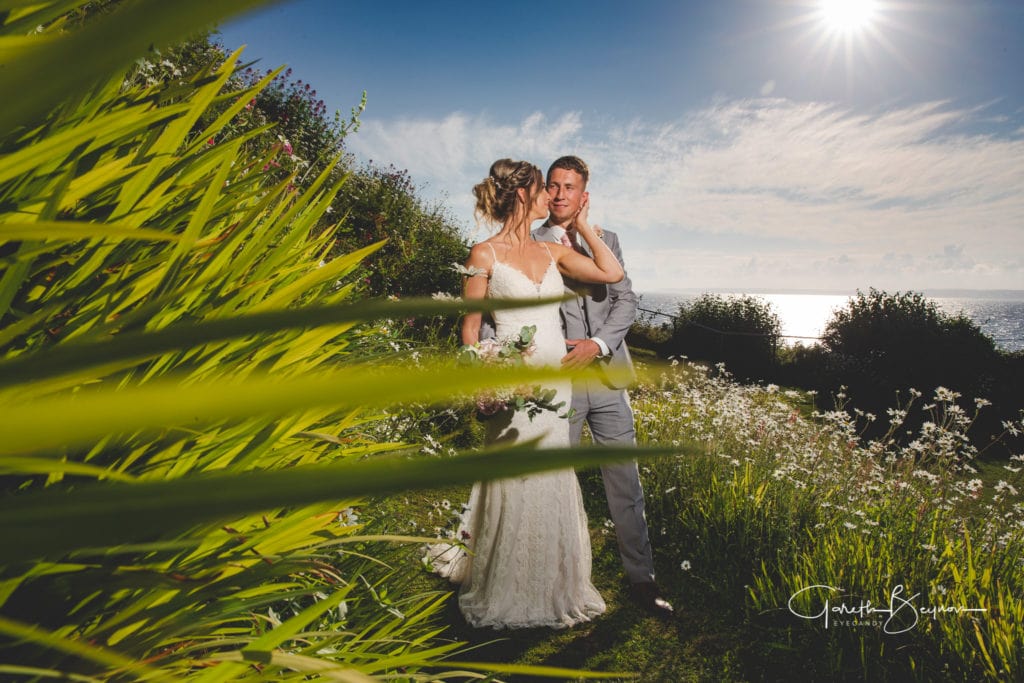 It may be couples' shots are done later in the day, after the wedding breakfast, especially in July/August, as it can be too hot, with a harsh sun that throws hard shadow under eyes.
Speeches
The next key time is sitting down to eat. The chef will want the food to be perfect, so I make sure I always know when to have you back in time. The guests will be standing already and you will get a big welcome. Some people have speeches at the start, some at the end and some between courses.
If you have anyone (the best man usually) who is particularly nervous then speeches at the start mean he will be able to enjoy the meal, rather than sitting nervously and sweating.
Otherwise, the end is best…everyone has had a few drinks and bad jokes seem to get a better reception!
I disappear while people are eating – nobody wants eating shots – and grab some food myself, change batteries and edit some photos.
The rest of the time, I am shooting people and catching those little moments you may miss.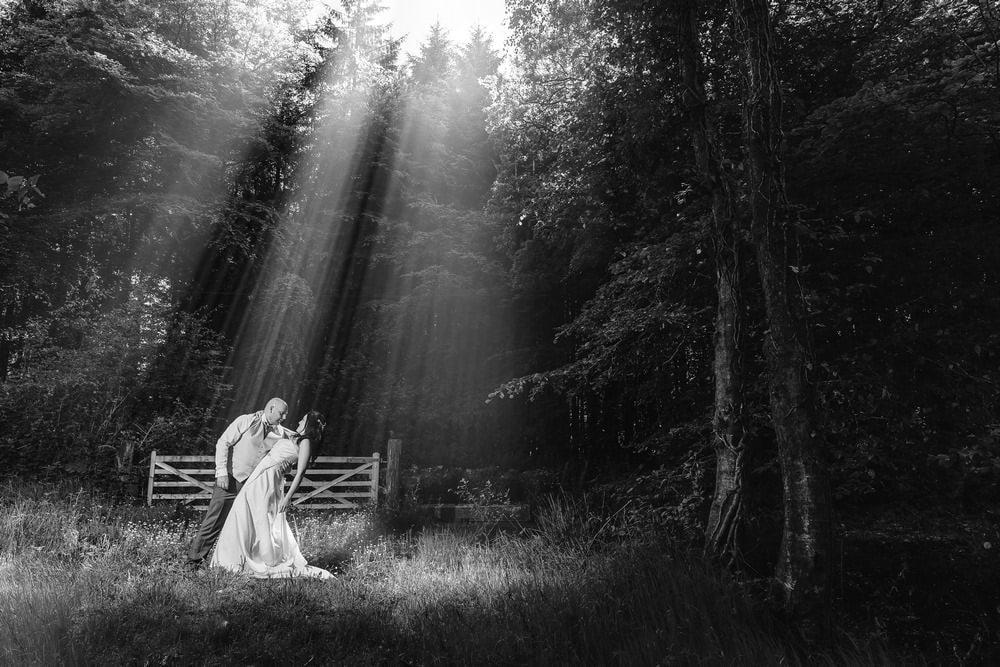 Cutting the cake
The next key moment is the cake cutting usually. The cake is an expensive part of any wedding usually, but at most venues it gets pushed to the side of the room. This means cake cutting photos are up against a wall and don't get to show the crowd gathered round to watch. What I try to do (if possible) is to get the cake moved into the middle of the dance floor for cutting, if the couple are happy with that. I will usually ask a DJ if he's set up to make an announcement to gather people round to watch. A good tip is to cut the cake then segue straight into the first dance, as people will be gathered already, which really helps the flow. Another option, if you have a dad/daughter dance, is to cut the cake then go straight into the dad/daughter dance. At the end of the dance, the groom can approach and Dad can "hand over", for the actual first dance. It can be a moving moment, but not for everyone.
Party time!
Then it's party time and I'll be in the middle of things getting some epic shots of guests busting out their best moves. If you have evening food, it works out best to leave a little bit of time for dancing before serving it, as people tend to stop and sit when it does appear so the dancefloor stays full for longer.
Sparklers!
If you want sparklers, now's the time, along with any outdoor night shots. For sparklers, get the long 18"/45cm ones. Amazon sell them! Short ones often burn put before the last ones are lit. Ask the venue for a bucket of sand to put the hot dead ones into and make sure you have enough lighters – the gas ones used in kitchens work best. If it is raining, umbrella shots at night look epic…and if it isn't raining, we could fake it!
That's about it for my "typical" wedding. Hopefully there was something useful in it for most people prepping for their big day. Please get in touch if you'd like any advice at all, and my next post will be a list of Devon & Cornwall wedding suppliers I have worked with and trust.
Gareth